Two Part Dispensing (2K) –
Sulzer Mixcoat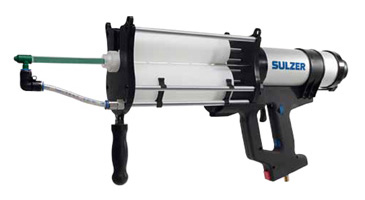 The Sulzer Mixpac MixCoat sytem is for the application of 2 part paints and coatings.
Using a modified version of the F series cartridges from 940ml to1500ml in ratios of 1:1, 2:1, 3:1 and 4:1, the pneumatic dispensing is combined with spray nozzle to give a versatile, simple and clean approach to applying 2-component materials with a minimum amount of waste and guaranteed mixing.
With applications in the defence and construction industries it gives high quality outcomes and labour savings.
The system include four types of dispensers.
MixCoat Spray Dispenser is used for most standard applications
MixCoat Flex Hose System is used for applications that involve confined spaces.
MixCoat Dispense is for non spray type applications
MixCoat Manual is used for touch ups and when an air supply is not available
The spray nozzles come in straight and 90 degree angled versions