Two Part Dispensing (2K) –
Thinky Mixers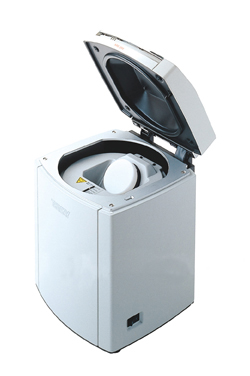 The Thinky planetary centrifugal mixers offer a different approach to the mixing of materials. It is a no-touch, no-blade way of mixing multiple liquids and powders employing rotation and revolution.
The components are placed in a container which orbits the centre and also turns upon its axis, these two contradictory forces simultaneous and thorough mixing, dispersion and deaeration.
Acceleration exceeding 400 Gs make these machines very powerful mixers. They handle different viscosities, high density materials, nanoparticles and any ratio. Vacuum pressure reduction models eliminate micron sized bubbles.
They have a wide range of applications including R&D, fuel & solar cells, pharmaceuticals, cosmetics and communications technology.
Models range from the ARE-250CE with a capacity of 250ml/250g to the ARE-500 with 500ml/1kg. Multiple program settings within a program allows for flexible control of the mixing process.
Associated products are the SR-500 for preparing stored solder powder paste from the refrigerator to uniformly dispersed bubble free condition for application and vacuum syringe fillers for the mixed product.