Two Part Dispensing (2K) –
Meter Mix Systems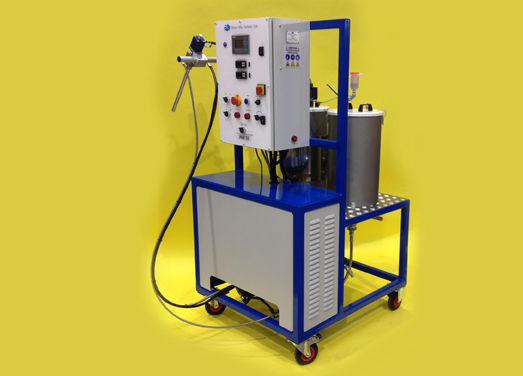 These units can dispense directly from material reservoirs or bulk supply containers and can operate at much higher speeds and pressures.
For these reasons the static mixers used are MS or ME types and are made to withstand higher pressures. Also they are normally fitted with metal shrouds which fit over the outside diameter of the mixer, this prevents the outer tube expanding under pressure and allowing some material to pass through the gap that is created. They also address OHAS concerns.
When mixing of the two materials is very difficult dynamic mixers can be used. In these systems the spiral flute has a
tongue on it and the dispensing head connects to it and spins the flute at high speed.
Piston Machines
These machines utilise two cylinders whose diameters match the desired ratio and hence are fixed ratio machines.
A pneumatic system moves the two pistons to load and then empty the material giving an adjustable shot size.
Machines range from the PAR 2 series with shot sizes from 0.04ml to 7.9ml and ratios from 1:1 to 18:1, to the PAR 5
series with shot sizes up to 250ml and ratios up to 20:1.
Geared Pump Machines
These machines have two geared pumps that are driven by variable speed electric motors.
The ratio is determined by the relative speed of the two pumps and so within limitations these machines are variable ratio.
There are limits on the viscosities that these units can handle. Sizes range from PAR 30 with outputs up to 2.0 litres per
minute at 1:1 to PAR 50 with outputs up to 6.0 litres per minute at 1:1 ratio. Ratios can be as high as 100:1.