Two Part Dispensing (2K) –
Sulzer Mixpac Cartridge System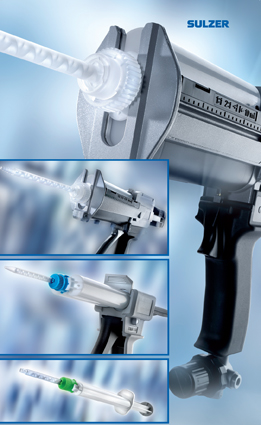 The three main cartridge systems are the F, B and K.
These systems all have the twin cylinder connection for the static mixers that eliminates cross contamination of the twocomponents.
The F system has 200ml and 400ml capacities in 1;1, 2;1, 4;1 and 10:1 ratios.
The B system is basically 50ml capacity with1:1, 2:1, 4:1 and 10:1 but does have 25ml at 1:1.
A subset of the B system is the S system which has a reinforced flange for very high viscosity materials and has 50ml at 1:1 and 10:1 plus 75ml at 10:1.
The K system has 2.5ml, 3ml, 5ml and 10ml capacities with 1:1 and 10ml at 10:1.
The C and A systems are older style versions of the F and B systems which have limited separation of the two components at the joint but have been in use for many years and so are still widely used.
Cartridges are supplied in sets which include the nose plug, locking device and pistons. The pistons have vents which allows the air to escape as they are inserted but can then be pushed in to seal.
For applications in the construction field the Peeler coaxial cartridges are popular. As the two pistons are forced down the tube a device behind them cuts away the central wall so that a conventional single component dispenser can be used.
Normally cartridges are moulded in polypropylene but some sizes are available in PA6 or PBT when more aggressive materials are used.
Static Mixers
The static mixers have an outer shell which may be round or square and a spiral or stepped flute inside which forces the two components to mix as they pass through. Mixers come in a range of diameters and lengths. They are selected on the basis of mixing ability and flow rate. As the material in the mixer is wasted when it sets, the aim is to minimise the size while ensuring complete mixing.
With the F, B and K systems there are normal and high ratio mixers. The high ratio mixers are used for 4:1 and 10:1 cartridges. When finer dispensing is required adapters can allow B systems mixers to be fitted to F system cartridges and K system mixers to B system cartridges.
The square or Quadro mixers generally give lower back pressures and are good for low and medium viscosity materials but can have problems with high viscosity materials.
Dispensers
Dispensers are used to force the materials from the cartridges. They can be manually or pneumatically operated.
The range of Mixpac dispensers designed to suit ther Mixpac cartridges are now complimented by the MK range of dispensers which suit most cartridges on the market.